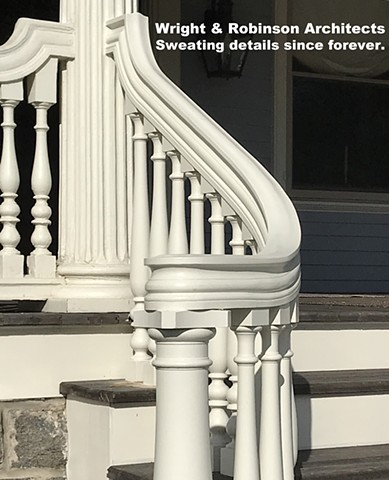 Wright & Robinson Architects specializes in residential architecture and preservation, and offers sustainable Passive House design. We also welcome civic, club, and commercial commissions for projects of special interest.
Many of our projects help houses of the 19th & early 20th centuries work beautifully for 21st century families, while at the same time making them look like their own best selves again. We often take a surgical approach — precise adjustments can make all the difference between a house that is too small and one that's a perfect fit. For this reason, interiors and kitchens are important to us, and are not treated as indifferent afterthoughts.
We are comfortable with ambitious additions — and new construction — in Historic Districts. We enjoy working with fine old buildings and in historic contexts. Whether we are designing an entirely new house or improving an old one, our work is grounded in scholarship, craft traditions, and sound construction practice. We work closely with our clients to produce thoughtful architecture appropriate to their needs, and strive to integrate architecture, interiors, and landscape into a coherent, engaging whole attuned to its place.
Our clients include families in Glen Ridge, Montclair, South Orange, Basking Ridge, and Ridgewood NJ, in New York City, Hudson, Fort Montgomery, and Rye NY, West Redding CT, and Baltimore MD. We are licensed in New Jersey, New York, and Connecticut.
See the About Us section of Portfolio for bios of the partners Mark Wright, AIA, and Karin Robinson.