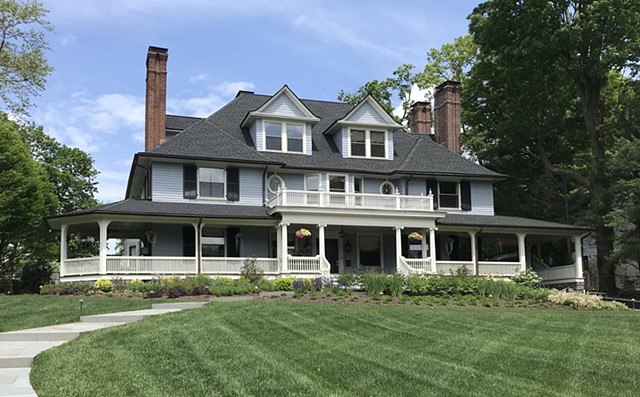 RESTORED FRONTRidgewood Avenue Residence 10, Glen Ridge NJ Historic District — Porch Restoration and Exterior Renovation — AIA NS Gold Design Award
2019
Our ongoing work on a significant 1894 Colonial Revival house in the Historic District has been organized into phases:
Phase 1 — A simple bathroom renovation.
Phase 2 — Renovate attic to comprise bedroom, two baths, playroom, and kitchenette, plus a new rear dormer housing a home office.
Phase 3 — Renovate service wing to include new kitchen, new and reconstructed porches, and guest room above.
Phase 4 — Renovate exterior to include new roof, and recreated upper railing over front porch.
Phase 5 — Recreated curved front railings. Hardscape and pool area with SMLA.
Phase 6 — Master suite dressing room and baths, bedroom renovations.
Phase 7 — (current) Carriage house renovation.
Repeat client.
-
Phases 4 & 5 were recognized with an AIA NS Gold Design Award
Phase 5 in collaboration with landscape architect Sigrid Morgan ASLA.